This is going to be one of those long blog posts I think as a lot needs to be said about the month of April.
I have some words on:
Lifestyle and Poker
Monthly Results
Understanding Variance
Supernova Pursuit
Future Plan
Lifestyle and Poker
As I had written in an earlier post, I have been without a job for a month now and I had intended to experience life as a full time poker player while I find another job during April. Nothing new on that regard, and I might have to double my efforts in job hunting during May.
My schedule during April was to put in enough hours to make PlatinumStar whilst I balance my life with gym and friends.
Wake up at 9am, start the day with a healthy breakfast and a protein shake, do some internet job hunting and send some CVs then put in a couple of hours on the virtual felt, walk the dog, lunch, another two hours of poker, hit the gym, go out with my girlfriend or meet some friends for dinner, and put four more hours before I hit the sac. I decided to keep the weekends Poker free and get some free time to do whatever I felt like (ofcourse some of that was me playing poker :p )
Here are a few pictures of one of the weekends at the mountains with my girlfriend's family
Monthly Results (Bad beats, cold decks, card dead… you name it!)

April was a perfect disaster! I got destroyed in all sorts of ways a poker player could get destroyed on the felt!
Things did not go my way at ALL!
I got really confused about how I'm playing the game which got me visiting my HEM a few times during the month trying to spot any leaks that might have emerged during the long sessions I've been playing. It's the first month I put in so much  time into the game and to my misfortune this was the worst time I had ever run. Even worse, I continued playing when I was stuck and could not get time to wait out the downswing as I had planned to achieve PlatinumStar!
I took the time to mark all the big hands that cost me my losses this month; that's 1,161$ in bad beats!!!
At times I felt like I was so bad in the game, almost as if I lost every single hand I was in! Which reminds me of this song…
As sick as that may sound, the long downswing put alot of things into perspective for me which reflected in my game the last two days.
I was short on making PlatinumStar so I had to jump up levels and play 4 tables 50NL  ZOOM even at times was playing 4 tables of 100NL (which is bad by all standards to jump up levels especially on a bad run, but I'm too darn stubborn with my goals) I had played 24 hours of poker in 2 days!
I was very happy with how I played even though I ran below EV, but It's good to see that I can get a 5bb/100 winrate on 50NL… Hope is not lost!
After 14 hours of poker, I finally made the PlatinumStar status!
That unfortunately did not cover my losses. In April I had lost everything I had won to date in 2012!
NLH: -1,458.88$
PLO:  -80.76$
MTT: +0$
VPP Rewards: +437$
For a Total of: -1,102.64
My Bankroll has been diminished by -85.64$
Which brings us to our next topic…

Understanding Variance
We all know that variance by definition is the difference between how much you expect to win on average over the long run and the results we show in the short term.
In a perfect word, our expected winrate would be equal to our actual winrate. That is to say, our graph would be linear with a slope equal to our winrate (Xbb/100). Ofcourse, poker is far from a perfect world situation due to the nature of the game. Hence, we can expect alot of variance in our winrate in the short term.
We can simulate a winnings graph using EV++ Poker Variance Simulator of a modest 1.5bb/100 winrate over a 100K hands and we can see far away from our expected winrate we can be!
Over a long period our actual results will meet up with our expected results, but in the short term we have to embrace variance.
So, the inevitable question remains: how long is the long run?
It's pretty hard to answer that question, and I don't think there is an answer to that really! That is why bankroll management is so important; to survive until your expected results will meet your actual results.
A lucky winning player, I believe, would be someone who's short term results are around the positive area of his expected winrate compared to an unlucky winning player who would be running in the negative zone of his expected winrate. That is why so few players are actually winners in poker, given that rake takes away a big portion of the profits.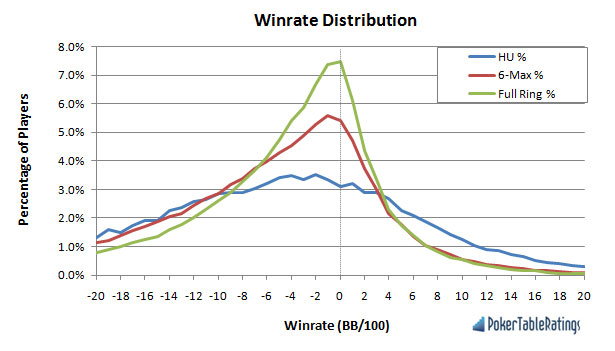 According to the above  graph, you can see how the majority of poker players are losing poker players. Read more about winrates on thepokerbank.com
SuperNova Pursuit
I had planned in my mind to try and achieve Supernova by end of the year. That means I would have to put in 10,000VPPs per month. But, given the actual events of this month, I think I will bail on that plan for a few reasons:
I was expecting to reach 50NL in just 10bi; now I am far from that after the losing streak in April and making 10,000 VPPs in 25NL would require a alot of hands and long sessions.
PlatinumStar was a trial experience to see how it would feel to pursue Supernova; I did not like it!
The main reason why I did not like chasing for VIP status are straight forward. 1. It kills the spirit of poker and would force you to play at times when you would rather do something else or even when you would have to wait out bad runs, 2. It's worse than a 9 to 5 job when you would have to put in over time hours and go on 12, 13 hours straight just to get those extra VPPs in, 3. it does not allow you to think about the game as you really should be
So for that, I am giving up the mentality of raking hands and altering my goal into working on my game and my winrate
Future Plan
With that said, I will have to reassess my bankroll and I think I will get back down on 10NL for a short time, play less tables and really THINK about every decision before I click my mouse buttons, just to make sure that my game did not go off-track before I load up the 25NL tables again.
Most importantly, I want to enjoy the game while I do!